While taking a trip to Birmingham, Alabama, I decided to visit some of the haunted locations in the area. I was driven to do this because I watch the YouTube series, Buzzfeed Unsolved, where they talk about the paranormal and unsolved cases. I found it intriguing so I decided to go out and try it for myself.  This is my own version of that series where I am simply going out to see if there is any proof that ghosts are real. My first stop was the Redmont hotel. 
The Redmont was Birmingham's most modern hotel, and it is the oldest. The hotel is said to be haunted by the famous American singer-songwriter Hank Williams, it is said to be the last place he was at before dying. The hotel has had shootouts, and fires, so it had defiantly seen it's share. The penthouse of Clifford Stiles, is said to be haunted by his ghost. The penthouse is now the rooftop bar for the hotel. The ninth floor is also said to be haunted by a woman in white. The lobby and the marble in it, did make the hotel feel very old and haunted. I went up to the ninth floor to see if I could see the woman in white. The hallway did have some turns, and it was somewhat dim, which added to the mystery. I felt a huge pressure on my chest and I was almost afraid to breath. That is a general feeling that people feel when they believe something is haunted, maybe it's just them, or maybe there is something actually going on there. I did not see any ghosts in the ninth floor, but I did hurry out of there, not too eager to meet one either. The building defiantly did seem old and off. I asked some of the employees there and they said they also saw ghosts and they believed it was haunted too. I walked a couple blocks more, to where I got to the Tutwiler hotel. The Tutwiler had a very different darker vibe to it, maybe it was because of the dark outside with stairs. The hotel is said to be haunted by a ghost in the bar who would turn lights off and on.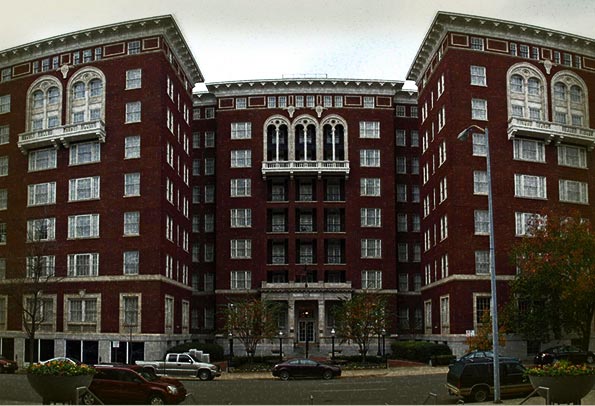 There are occurrences of that over the hotel but most are reported from the bar area. There are also doors that are closed and opened. Mr. Tutwiler himself is said to haunt the hotel. The hotel seemed very old, and worn. The lobby was small and seemed semi barren which added to the ghost hunting mood. There were two separate rooms on the sides of the lobby and these felt like you stepped back in time. These rooms felt straight out of history and I was too jumpy to go in them. The walls, furniture, and fireplaces felt cursed to me. It felt like a not so friendly Casper the ghost was going to jump out at me at any moment. I went along some hallways that had historical pictures to them that showed the importance of Birmingham. The hallways had many rooms with closed doors, and I was not brave enough to go in them. By that point it was very late in the night and I was ready to get out of there. While I did hear thumps and bumps, I needed to remember that I was in two hotels full of people who probably caused those sounds. Those sounds are not proof that a ghost or spirit exists, therefore I am still continuing on the hunt to find out are ghosts real.